Windows XP is the most popular, and in many ways more reliable, than any other computer operating system offered by Microsoft. Windows XP is also one of the largest consumer software applications.
But, let's face it, Microsoft has had a hard time selling Vista, their most recent operating system. The sales have been lower than expected because XP is still the preferred choice by home users in particular. When Microsoft stated that it sold more than 20 million Windows Vista licenses in the first month of availability, more than twice the initial sales of Windows XP, but that doesn't sound quite right.
Anyways, to make things worse for XP users, Microsoft will officially end the lifecycle of Windows XP in June 2008, to make way for their future operating systems. That means there will be no more XP security updates, no more XP technical support, and no more XP on new computers. At some point you'll be "forced" to upgrade to Vista, which is slower (on most computers that are 2-3 years old) and incompatible with many hardware devices.
If you love Windows XP, considering that you are not yet an open source junkie and still stuck in the Windows world, and would like Microsoft to hear you say, then join the "Save XP" movement. Close to 200,000 people have already signed the petition to show their support for Windows XP, but the petition needs more substance, from you and your friends.
Coming over to some breaking news, CrunchGear has released screen-shots of Windows 7, Microsoft's next major OS after Vista. Microsoft's Steven Sinofsky was interviewed by CNET about Windows 7 sometime back.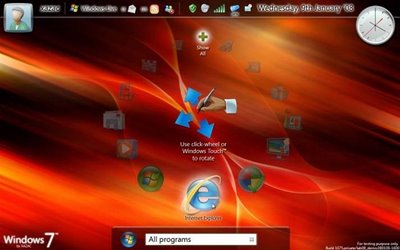 Windows 7 is expected to be released by 2010. Go figure!
Update: Microsoft CEO Steve Ballmer and Chairman Bill Gates will demonstrate Windows 7, tonight at Dow Jones' D6 conference. Checkout the D6 Highlights blog for more details as they emerge.
Update-2 (29/05): Ballmer And Gates Demo Windows 7: Multitouch, Pie Menus And a Piano