Social networking is big business to say the least. Investors, VC's and major companies have eyes on these social systems. Millions of people around the world share messages and interact daily with their friends on social utilities like Facebook, MySpace, Orkut etc.
Social networking site, Facebook, has gained extensive coverage and momentum in the recent past. Earlier this year Facebook released an API for developers to create applications on top of the Facebook platform, and this move did wonders for Facebook. It not only made the Facebook platform more flexible, but it also attracted the developer community to this great service causing a chain reaction of sorts.
But where are the big boys in the race? Google's own social wagon, Orkut is bearing a neck-to-neck brawl with Facebook. While Facebook is experiencing an upward growth, Orkut has had marginal progress. The following Alexa traffic reach graph clearly depicts the growth pattern of the two in a 1 year period: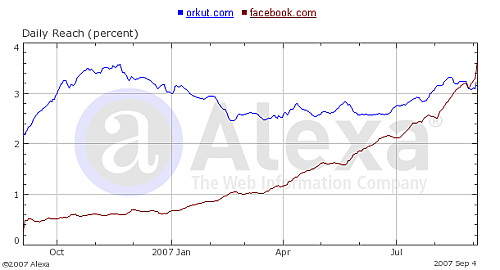 Demographically, Orkut has only been able to flourish in Brazil and India, mainly due to the privacy concerns for users elsewhere. Facebook on the other hand is the leader in the US, Canada and UK. [Update, Sept 12: Paul Graham over at HackerNews seems to think that Alexa may not be a good tool for this sort of a comparison. Well, a Google Trends analysis seems to paint the same picture.]
I've used Orkut for a couple of months, until now, when I finally made the switch to Facebook. I reckon this trend of switching spaces will continue in the coming time, in favor of Facebook. Until, Google reworks their platform. So can Google dominate the social networking space? If yes, then how?
In my opinion, Orkut, with its obvious flaws, is still much simpler to use and less cluttered than Facebook. The key factor that has restricted its adoption world-wide is its privacy mechanism. To start with, anyone on Orkut, and I emphasise – ANYONE, can read the messages exchanged between you and your friends. The Orkut Scrapebook is an open book about your daily life, without any privacy. In the recent past, there have been many cases of identity thefts and confidential information being compromised. That may not matter much to the public users in Brazil and India, but understandably its a huge deal for people elsewhere. Why would anyone want their messages to be open to everyone? It's like sharing your e-mail account with thousands of users, where everyone can read each others messages. To combat this flaw, all that Google has to do is integrate a profile privacy mechanism – a simple checkbox to enable or disable public access to your entire profile (including your scrapebook, photos, videos, feeds etc). This one direct change will enhance data security and prohibit unauthorized access to a user's online profile.
The second issue that Orkut faces is its closed approach to 3rd party extensibility. Facebook has done a great job with their API, encouraging thousands of developers to experiment with some creative Facebook apps (plugins for your Facebook profile). But Google doesn't provide an API, nor does it allow developers to access Orkut (or other Google apps) via "web scarping". The Google T&C consider this "scraping" an exploitation of their database. But what makes up their database at the first place? In case of Orkut, it's our profiles, our friends, our messages, our photos, and in good motive I don't see why I can't access my own data from outside their system boundary. The more you'll trap a user within a closed system, the more likely they are to move to an open system.
So hear up Google, if you want to expand and win as a social utility, just like you did within the search space, you have to fix up the privacy concerns and release an API. No matter how well you guys redesign Orkut, or stand to win the MTV Youth Icon award, or promote Orkut in 50 different Indian languages, but when it comes to security – no one will care about all that.
Update (22/09): Google is planning to release a social graph API for Orukut and other Google apps. Facebook has a platform to allow third parties to build applications on Facebook itself. But what Google may be planning is significantly more open – allowing third parties to both push and pull data, into and out of Google and non-Google applications.