India has reason to celebrate. Abhinav Bindra claimed the men's 10-meter air rifle shooting title at the Beijing Olympics. India's first-ever Olympic gold medal in an individual event.
The state of sports in India has been on a downhill path. More than a billion people, but a small 56 member contingent in Olympics, gives a clear glimpse of that illness. The eight Olympic gold medals it has, were won years ago in hockey. Even in that sport it has faded away – its hockey team failed to qualify for Beijing.
Some may blame the infrastructure for this poor sporting culture in the country. Some may question the sporting interest and dedication in the youth. But I guess the biggest factor for it is the lack of sponsorship and endorsements, without which even the best of the sportsmen will be left stranded. The Indian masses fail to see anything beyond Bollywood and Cricket it seems. What a shame.
Never-the-less, Bindra's win is a huge step, that should inspire the youth to take sporting more seriously.
The other day I was browsing this really neat visualization of Olympic medals won by participating nations over the years.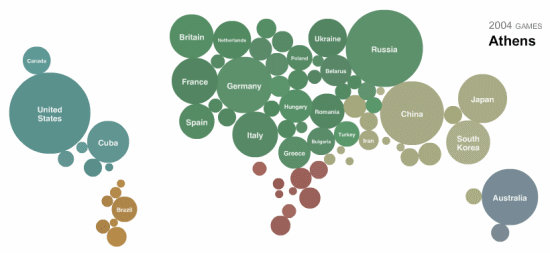 I noticed that during the early years, the games were dominated by the host country. Considering some other factors, like:
Population (ref) – we should see China and India pretty much swipe the tally, but unfortunately that's not the case.
Population Normalized – this one might go to Australia, for the medals-won/population ratio.
Nominal GDP (ref) – US, EU, Japan, Germany, and China dominate the world GDP. The medal tally looks quite similar. And it brings me back to my theory that 'rich' nations 'invest' more in their sporting culture.
Update (26/08): Here's the final medal tally adjusted by GDP and Population.