Being away from India, I generally don't get as much insight into the movies and music scene back home. But I try to keep up through the bollywood and gossip websites. For one, I'm happy to see Indian cinema trying out new concepts and experimenting with un-conventional story lines these days (although the same-old-non-sense-love-story-musical-crap is still being produced by large). I was going through a couple of news sites today and two new movies immidiately caught my eye – for their concept and movie-making vision seems inspirational and very "new-age".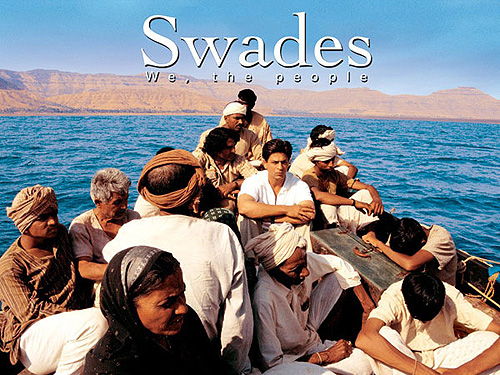 The first movie that looks really impressive is "Swades" (official site; starring Shahrukh Khan; directed by Ashutosh Gowariker of the Oscar nominated Lagaan fame). Now, I'm not a big fan of SRK but in my humble opinion this movie can do good for SRK although its not about SRK or the director or an Oscar for that matter. The movie is about one's culture, heritage, (re)discovery of your roots and looking at things from a new perspective. Or as they say returing to your "self" – returning to innocence! Enough with that philosophical viewpoint but never-the-less this one movie looks really good because in some aspects it reflects the ideology and dilemma's of people leaving their country in search of a better life and a "home away from home". The movie's story sounds strong and intense. A masterpience in making? A blockbuster? Maybe! Well, the music is powered by the mighty Rehman and some of the songs are very aesthetically produced. I really like the instrumental version of the song "Yeh Jo Des Hai Tera (Shehnail)". This piece has been performed on Shehnai but if I'm not mistaken I heard bhangra chants in the background. "Yunhi Chala Chal" has a nice rythym to it and the lyrics by Javed Akhtar are great. Nice, soothing and original! I hope to catch this movie later this year when its released in cinemas, although I'm not sure when will it be release here in Melbourne.
The second movie that looks really impressive this time around is "Vaastu Shastra" (starring Chakravarthy of the Satya fame, Sushmita Sen; produced by Ram Gopal Verma; directed by Saurabh Narang) which is being showcased as a "real" scary movie, and after going through the official website of the movie (which btw is very well designed in Flash) as well as a couple of movie clips, I sure think its something "original" (after Bhoot ofcourse) in the horror genre! I haven't seen the movie yet but this one seems to be about psychological fear rather than blood and gore. The background score of the movie is chilling and the cinematography looks very impressive (from what I could make out of the trailers). Acting wise as well, I've read some good things about the whole cast, specially the 4 year old kid (seems to be the central character) in the movie. Anyways, I'm waiting to catch this one on DVD.
I hear that there are a few more well-written and well-presented movies coming over Diwali and New Year this year. Its high time that Indian cinema matures and we as audiences mature to accept & enjoy only good first-rate cinema. Is it too late (or too early) for us to re-produce master-pieces like Mughal-e-Azam? Are movies like Arth, Saaransh, Sholay, Dil Chahta Hai, Lagaan to name a few only a seasonal receipe. I'm really amazed by the originality (in general), depth and execution of most western cinema productions, while we still remain glued to what we are being fed by bollywood directors/producers. Call for a change people – you have the remote in your hand, you have the control 🙂