The dictionary defines mythology as "the science which treats of myths." But what happens when science collides with mythology? In a classic example, a national project in India is amidst controversy due to its defiance of the fundamental Hindu religious belief.
The Hindu epic, Ramayana, mentions about a bridge, which was built between the southern coast of India and the Sri Lankan coast under the supervision of Rama (Hindu God). In 2002, a NASA Shuttle imaged a mysterious ancient bridge between India and Sri Lanka, as mentioned in the Ramayana. This information reaffirmed the belief of many Hindu's.
However, that belief is being speculated now, by none other than the Indian government itself, which by the way is governing a country with 80% Hindu population. The speculation arises due to a sea route project called the Sethusamudram project. This project will reduce distance between the east and weat coasts of India and reduce the sailing time by upto 30 hours.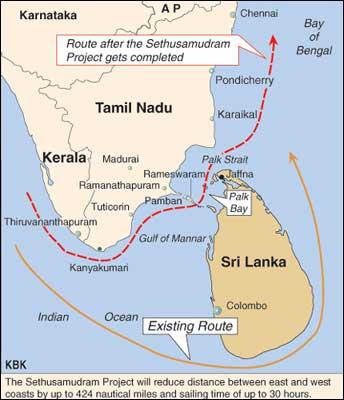 However, in a bid to expedite this project, the Indian government itself is now stating that there was no historical evidence to establish the existence of Rama or the other characters in Ramayana. These remarks virtually put a question mark against authenticity of the Hindu belief. Did Rama even exist? Is Ramayana merely a folklore?
Whoever said politics is a big da-rama after all. I wonder.