In the cloud computing space, there's the SaaS model, its cousin DaaS, and their distant mate – Platform-as-a-Service (PaaS).
All the "XaaS" platforms exist and operate under the same umbrella, so to speak. The "Comparing Amazon's and Google's Platform-as-a-Service (PaaS) Offerings" article illustrates a nice graphical overview of the Amazon EC2 and Google App Engine platforms: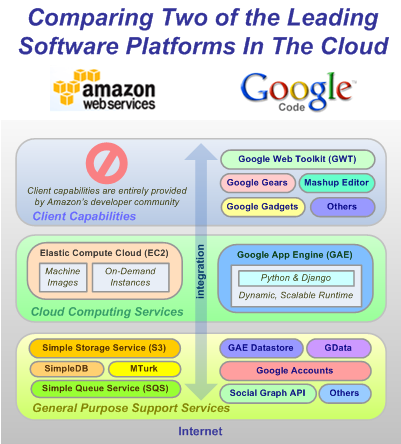 The XaaS platforms out there are great for B2C apps, but I still don't think that they are quite ready for enterprise computing yet. I think Salesforce, with their user base and current platform, has a better chance of leading (and even redefining) the enterprise-level application delivery model.
Update (14th April): In a contrary move, Google and Salesforce have partnered together and announced the launch of "Salesforce for Google Apps" today. Will this alliance benefit the enterprise customer? I still have my doubts. Taking technology to the enterprise consumers depends a lot on the developer community. The size of the Salesforce developers network might be substantial for their own platform, but would the average Salesforce developer branch out to Google's App Engine for deployment?
Update (15th April): More Details On The Google-Salesforce "Enemy Of My Enemy Is My Friend" Alliance